FOGLIE
An enchanted garden that with its colors, marked and changed by time, dresses our spaces and accompanies our days making us constantly relive the sensation of a dreamlike, magical and childish world.
Such is the garden, a mysterious place populated by scents, sounds, fantastic animals, a place that whispers the way to find our roots.

Drawing inspiration from the naturalness of the garden, the Foglie collection takes advantage of the unrepeatability of handmade pieces, also playing on the mix of the planar and concave surface of the leaves which gives three-dimensionality and movement.
DETAILS:
USE: wall coverings
MATERIAL: terracotta handmade printed and glazed
PRODUCTION: handmade
FINISHING: flat (60%) and concave (40%) in mix
COLOR RANGE: 12 colors + 2 rainbow colors
MIX: 4 mixes available: Winter, Summer, Jungle and Tundra
Winter: 31.6% Gesso + 31.6%bianco lucido + 31.6% zucchero + 8 pcs/m2 rainbow white
Summer: 50% mirtillo + 25% mirto + 25% rainbow blue
Jungle: 25% cactus + 25% agave + 25% edera + 25% felce
Tundra: 50% timo + 25% salvia + 25%rosmarino
DYNAMIC DESIGN: All colors of Ramazzotti collections available on request
SIZE: 18,5x6,8 cm
THICKNESS: 1.3 cm
SHADE VARIATION: V2
SIZES /SPECIAL SIZES: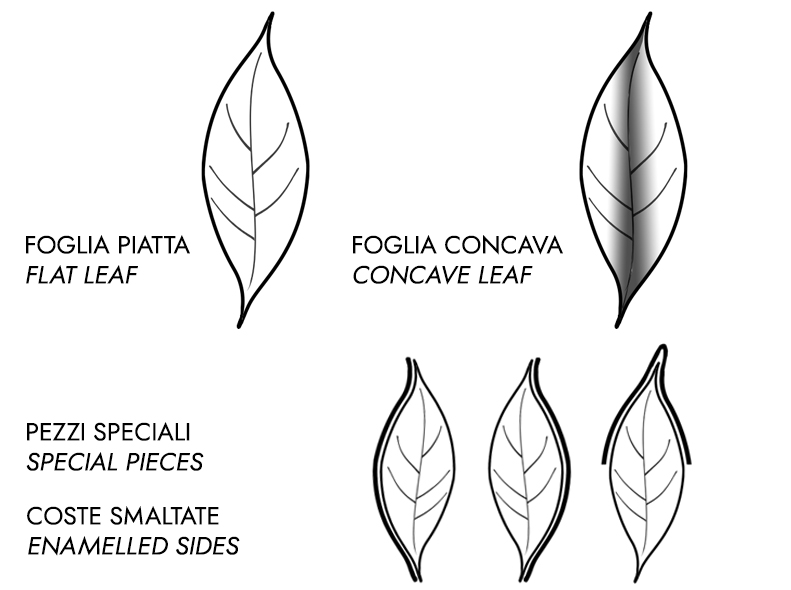 CUSTOM MADE: different sizes or colors on request