CODA DI PAVONE
The Peacock Tail is a classic majolica format reinterpreted, in this collection, through a revisitation of the format that gives the piece a sculptural dimension.
The chromatic choice inspired by deep greens and iridescent blues with mother-of-pearl effects, are evocative of the colors of the plumage of this animal so beautiful as to seem almost created by the imagination.
Two surfaces available; one smooth and slightly modeled, and the other engraved, crossed by small lines made by hand that create a rich and light texture that recalls the softness of feathers.
DETAILS:
USE: wall coverings
MATERIAL: terracotta handmade printed and glazed
PRODUCTION: handmade
FINISHING: liscia o incisa
COLOR RANGE: 4 colors + 2 rainbow colors
DYNAMIC DESIGN: All colors of Ramazzotti collections available on request
SIZE: 18,5x6,8 cm
THICKNESS: 1.3 cm
SHADE VARIATION: V2
SIZES /SPECIAL SIZES: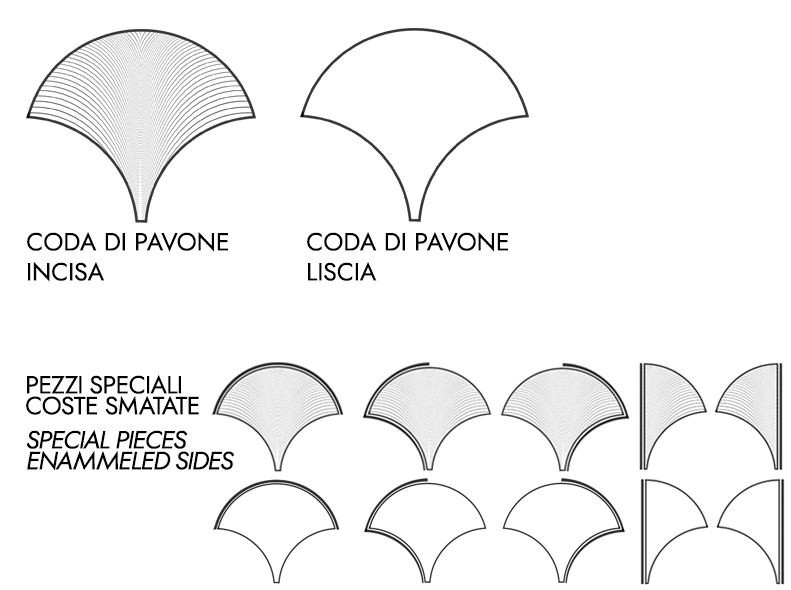 CUSTOM MADE: different sizes or colors on request