AMO - 3d maiolica
AMO is hand-made majolica that tells the emotion of the sea, its colors, its depth, the movement and the changing shimmer of the waves.
AMO allows you to create dynamic and original coverings capable of giving character to any environment.
The modules with clean and essential lines, thanks to their volumes and super shiny enamels, create a strong graphic game
that breaks the light, reflects it and the model, playing with the surface,
as the wind does when it caresses the choppy sea.
DETAILS:
USE: wall coverings - interior
MATERIAL: terracotta handmade printed and glazed
PRODUCTION: handmade
FINISHING: Blue mix - glossy/micro craquelé Metallo mix - glossy/matt
COLOR RANGE: Blue Mix / Metallo Mix
SIZE: 3 different modules supplied in mix - 15x15x1cm / 15x15x3cm / 15x15x1<4cm
THICKNESS: 1<4cm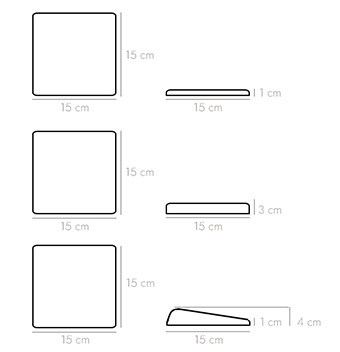 SHADE VARIATION: V3
CUSTOM MADE: different sizes or colors on request